Strapless N95 Face Mask
50/ pk, large or small
Our Price :

$94.05

$139.99
---
Device is available under EUA per FDA Guidance Enforcement Policy for Face Masks and Respirators During the Coronavirus Disease (COVID-19) Public Health Emergency (May 2020).
Global Safety First, LLC. NIOSH Approval# TC-84A-8133
Description:
Avery Dennison Medical has partnered with Global Safety First (GSF) to help bring an innovative mask technology to the healthcare market. The NIOSH-Certified Strapless N95 face masks use a special air-purifying filter media and a hypoallergenic medical adhesive at the perimeter of the mask to filter more than 95% of particles. The mask utilizes a strapless innovative design that provides a complete perimeter seal with security and protection.
NIOSH-Certified Strapless N95 face masks offer:
Security and Protection: Forms an air-tight seal while allowing filtration during inhalation and exhalation
Innovative Design: Self-adhesive material eliminates tight elastic straps and ties that put pressure on the face or get caught in hair
Breathability: Made with electrostatic particle filtration properties that make the masks more breathable
Gentle Comfort: Skin-friendly adhesive that adheres gently to the face
Features:
Medical grade materials and adhesive
NIOSH N95 Certified
Meets ASTM F2101 Bacterial and Virus Filtration Efficiency
Meets ASTM F1862 for Synthetic Blood Penetration Resistance
Meets ASTM F2299 for Latex Particle Challenge
Meets 16 CFR Part 1610 for Flammability of Clothing Textiles
Meets MIL-M-36945C for Differential Pressure
Passes 3-hr Dry Spore Test (STP 200305804-01)
***Gentle Acrylic Adhesive provides a firm hold - allowing for mask repositioning***
SIZE SMALL: - 7 in. x 5 in.
SIZE LARGE: - 8 in. x 6 in.
Strapless N95 Mask Application Instruction Video
* All sales are final on emergency PPE items

Item #
Size
Price
Quantity
N1906L-BG
Large

$139.99




$94.05

N1906S-BG
Small

$139.99




$94.05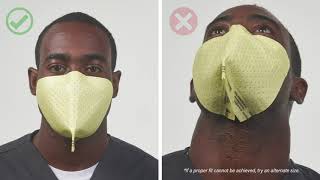 Instruction Video
Merchandise must be returned in its original, unopened, unmarked packaging. Return requests must be submitted within 48 hours of receipt. Customers will be responsible for return shipping costs, unless an item was received in error or damaged.